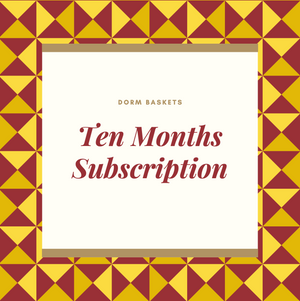 Ten Months Subscription
As the semester progresses and your students get busy, gift them with ten packages specialty curated with goodies to support, encourage, and remind them of how loved they are! 
This month's basket is our
Welcome Aboard Special!  
Which includes your choice of college paraphernalia, sweets, treats, and much much more!
Add a personalized card to make your loved ones' day!
-Rush delivery and Shipping options available upon request-
If you would like to request a different time, please contact us at info@dormbaskets.com.
**actual product assortment may vary from picture**